ZLazy J's Hazel (3 leg)
Linda's Gunner GC X Sweetbriars Pecan GC

This is Hazel she is a tad long in the shoulder but has an incredible head, HQ, and width to her body. Also has great depth and is a sweetheart. She came from Tiar black of Washington who has some very nice French Lops. Hazel's head is massive! Her 1/2 sister Queenie (who now lives with Sarah Young) also has a massive head.

Sweetbriars T2PE(Princess)
Sweetbriars PerrinGC X Sweetbriars Tippy GC

This is princess. A really nice typed doe from Mary Whitney. She is a solid opal. She could do for a better head but what type! She has a great well filled body with awesome Depth. Cant wait for another litter! Princess's nose was biten when she was young so she has not been shown, but I'm sure she would very done well...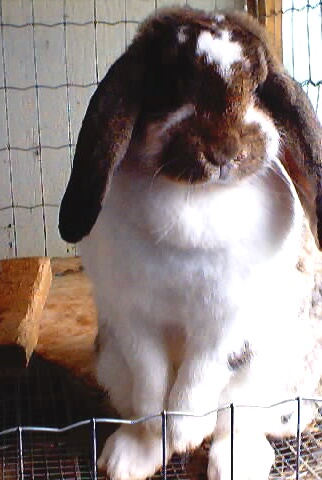 LOJ Joy 2 legs
LOJ Adrian GC X Brookes Kendra

She has nice body type, she is a tad low in the shoulder but that is her only fault. Her full sister took BOB of 84! rabbits, and BIS of 1400 rabbits at Washington state convention! I only paid $30 for her! What a deal. She has taken BOB of 12 rabbits but only 2 breeders so she didn't get a leg :(